Triple Butter Orange Patchouli & Cinnamon Soap
Regular price
Sale price
£8.00 GBP
Unit price
per
Sale
Sold out
From our triple butter range:
Orange Patchouli & Cinnamon SoapI
Introducing our handmade soap, perfect for mature skin. Crafted in the traditional way with minimal ingredients, our plant-based soap features skin-loving oils and butters, offering a nourishing and luxurious cleansing experience. It effectively cleanses without stripping natural moisture, leaving the skin soft, supple, and moisturised.
Infused with our custom in-house blend of essential oils, including red and green clay, our soap enhances skin benefits. Key ingredients like olive oil, coconut oil, shea butter, avocado butter, and kokum butter contribute to the soap's richness.
Olive oil, rich in proteins, vitamins, and minerals, aids in healing, conditioning, and softening the skin. Coconut oil protects, softens, and creates a lush lather. Shea butter is a moisturising boost with creamy lather, providing protection, hydration, and soothing effects with vitamins A and E. Avocado butter is highly moisturising, rich in fatty acids, minerals, and vitamins A, B, C, and E. Kokum butter, high in fatty acids and antioxidants, particularly Vitamin E, offers moisturising benefits.
Scented with a delightful blend of orange, patchouli, and cinnamon essential oils, our soap provides a fruity, grounding, and invigorating aroma. Orange relieves tension, patchouli balances and grounds, and cinnamon restores vigor.
In conclusion, our handmade soap is the ideal choice for mature skin, delivering a luxurious and nourishing experience that leaves the skin soft, supple, and moisturised. Carefully chosen ingredients and a custom essential oil blend make our soap a true indulgence for your skin.
Ingredients
Sodium cocoate (coconut oil); Sodium olivate (olive oil); Sodium shea butterate (shea butter); Sodium avocadoate (avocado butter); Sodium kokum butterate (kokum butter); **Glycerin; Aqua; Parfum (essential oils); *Eugenol; *Linalool; *Benzyl benzoate; Kaolin.
**Vegetable Glycerin - Naturally produced during the soap-making process. Prized for its moisturizing abilities.
*Naturally occurs in essential oils
Vegan. Palm free. Cruelty free. Suitable for all skin types.
Suitable for hands, body.
Each bar weighs a minimum of 100g.
As all soaps are handmade, hand poured, and hand cut, each bar will have slight differences.
Our soaps come in boxes which are biodegradable & recyclable. The over-lay stickers are made from 100% recycled paper. 
Share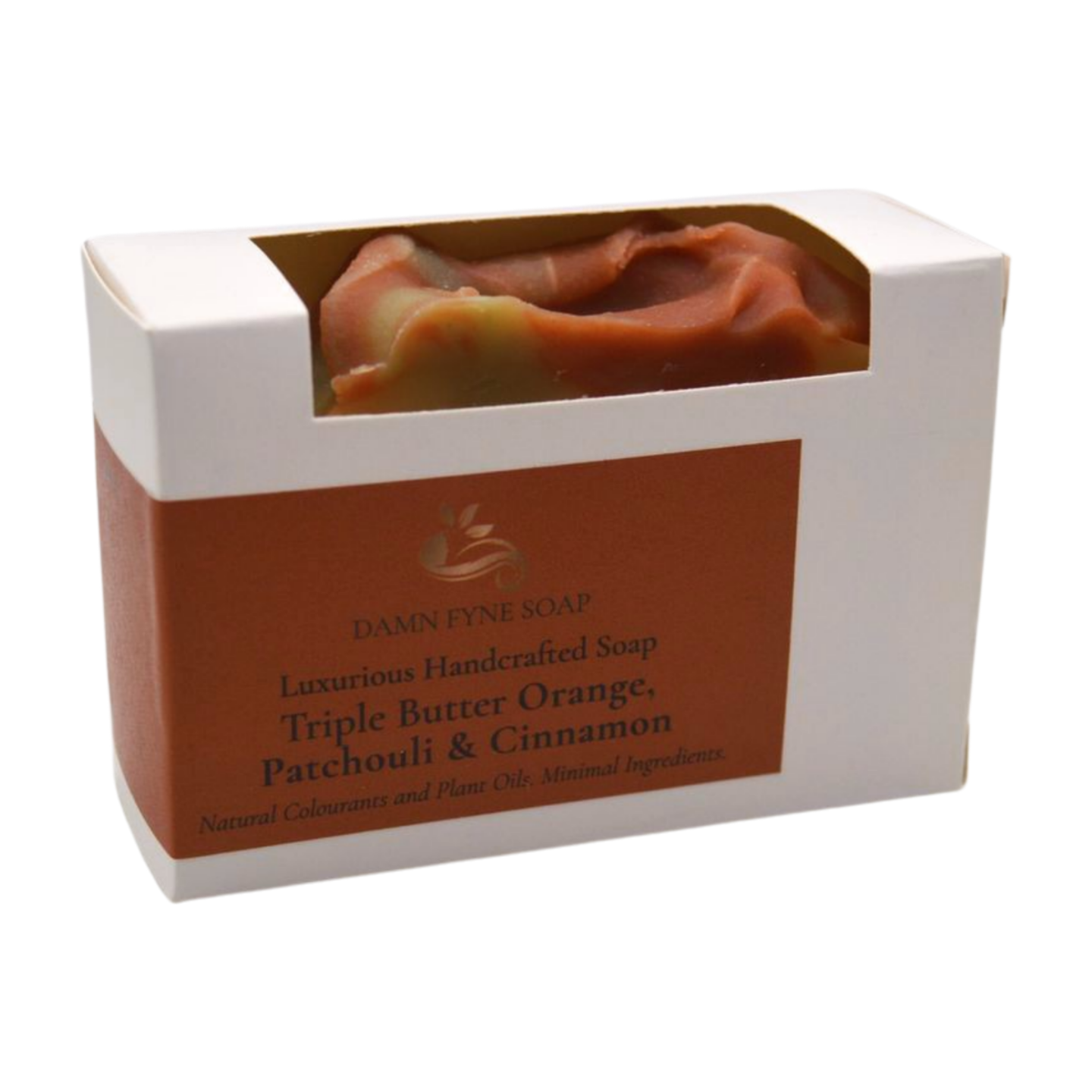 Soap that is Damn Fine ;-)
Smells amazing and feels really luxious. The cinnamon scent, with the orange and Patchouli undertones, relax and refresh you at the same time.